Karafuru, a fine dining Japanese restaurant located in the heart of Philadelphia, is renowned for serving the freshest and finest traditional sushi. With a name that translates to "colorful" in Japanese, the restaurant's philosophy is centered around serving vibrant and visually appealing dishes. Karafuru's commitment to quality and simplicity is shown in every aspect of their menu, where the natural and fresh flavors of the sushi shine through. In this case study, we will dive into the makings of Karafuru and how to leave an unforgettable culinary experience for our guests.
Mission Statement: Karafuru aims to provide an authentic and traditional Japanese culinary experience to its customers in America while promoting awareness and appreciation of Japanese cuisine. This is achieved through the serving of mouthwatering and authentic sushi dishes that showcase the natural flavors and freshness of the ingredients. By prioritizing traditional preparation methods and ingredients, Karafuru is committed to delivering an authentic Japanese dining experience that will leave a lasting impression on their customers.
As the culinary world continues to globalize, Japanese cuisine is not an exception to the current trend. The creation of Americanized sushi rolls, such as the Philadelphia roll and the California roll, highlights the fusion of Japanese and American culinary tastes. However, Karafuru has stayed away from this trend, instead choosing to focus on a more traditional approach to Japanese sushi. The restaurant specializes in serving traditional Japanese sushi items such as nigiri, sashimi, and makizushi, which easily showcase the natural and fresh flavors of the fish without the addition of sauces like spicy mayo and yum yum sauce. By staying true to their roots and prioritizing traditional preparation methods, Karafuru sets itself apart from other sushi restaurants in the area and provides a unique dining experience for their guests.
Throughout the design process, I drew inspiration from the Japanese word "karafuru," which translates to "colorful," as well as the symbolism of flowers in Japanese culture. Specifically, I took inspiration from the cherry blossom flower, which holds great cultural significance as the national flower of Japan and represents hope and renewal. To reflect these themes in the logo design, I incorporated stylized flower petals and a vibrant, colorful palette. The resulting logo is a modern and elegant interpretation of traditional Japanese ideals, staying true to the cultural roots that inspired it.
​​​​​​​

While designing the logo, the typography was the most challenging for me. At first, I was drawn towards the elegant curves of script fonts and felt that it would match the elegance of the restaurant, but my instructor advised me to consider modern serifs and san-serifs as well. I struggled to strike the right balance between classic and contemporary. As I continued to experiment with different typefaces, I ultimately ended up with Brandon Grotesque for my header and Rockwell as my subhead. Additionally, when selecting a color palette, I found myself gravitating towards warmer hues. The warm colors were not only pleasing to the eye, but also had the added benefit of stimulating appetite and matching the vibrancy found in sushi.
Karafuru's brand style is colorful and clean, similar to the logo. The patterns are taken directly from the logo with a different spin on it. The first pattern is the petals from the logo stacked up. The first time I made this pattern, I originally had it stacked horizontally instead of vertically and with black outlines instead of white. The second one is a scattered petal pattern that takes the petals on the logo and disperses it throughout. My last pattern is flowers from the logo arranged in a grid format. For these last two patterns, I mostly played around with the grid format and made sure they weren't too clumped up or spaced out.
When it came to selecting a standout design, I decided to create a comprehensive menu that features all our items. To add a bit of visual interest, I decided on adding tabs on the sides of each menu page. This gave the menu bursts of color and also neatly divided the different sections. The menu was separated into categories, including an appetizer section, a sushi and sashimi section, and a section for rolls and omakase.
In order to expand and unify my featured menu, I decided to include a dessert menu, which not only features popular sweet treats such as ice cream and fruit, but also pays homage to traditional Japanese sweets and desserts like anmitsu; a jelly that usually includes fruits, mochi, red bean paste, and green tea ice cream, and daifuku; a red bean paste covered strawberry wrapped in chewy mochi. To add some modernity, I wanted the design of this menu to have a scroll-like appearance.
When it comes to the posters for my project, I decided to feature a series of posters that highlight some of the most commonly served sushi items. 
As I progressed with my poster design, I decided to create some icons and illustrations for added visual appeal. These included illustrations of a delicious tuna roll, as well as some mouth-watering egg nigiri and salmon nigiri. In order to maintain the cohesive look of my brand, I decided to use a stylized graphic style for these illustrations. To further push the branding, I selected the variety of colors from my style tile to use with each unique design.
Stickers & Business Cards
In terms of my third design component, I chose to focus on stickers and business cards. This included a collection of professional business cards with different patterns on its back and a fun and colorful set of stickers.
For my final design aspect, I wanted to concentrate on the company's packaging and other miscellaneous designs. This component comprises several items such as chopsticks, a sushi container, and unique take-out bags for the customers.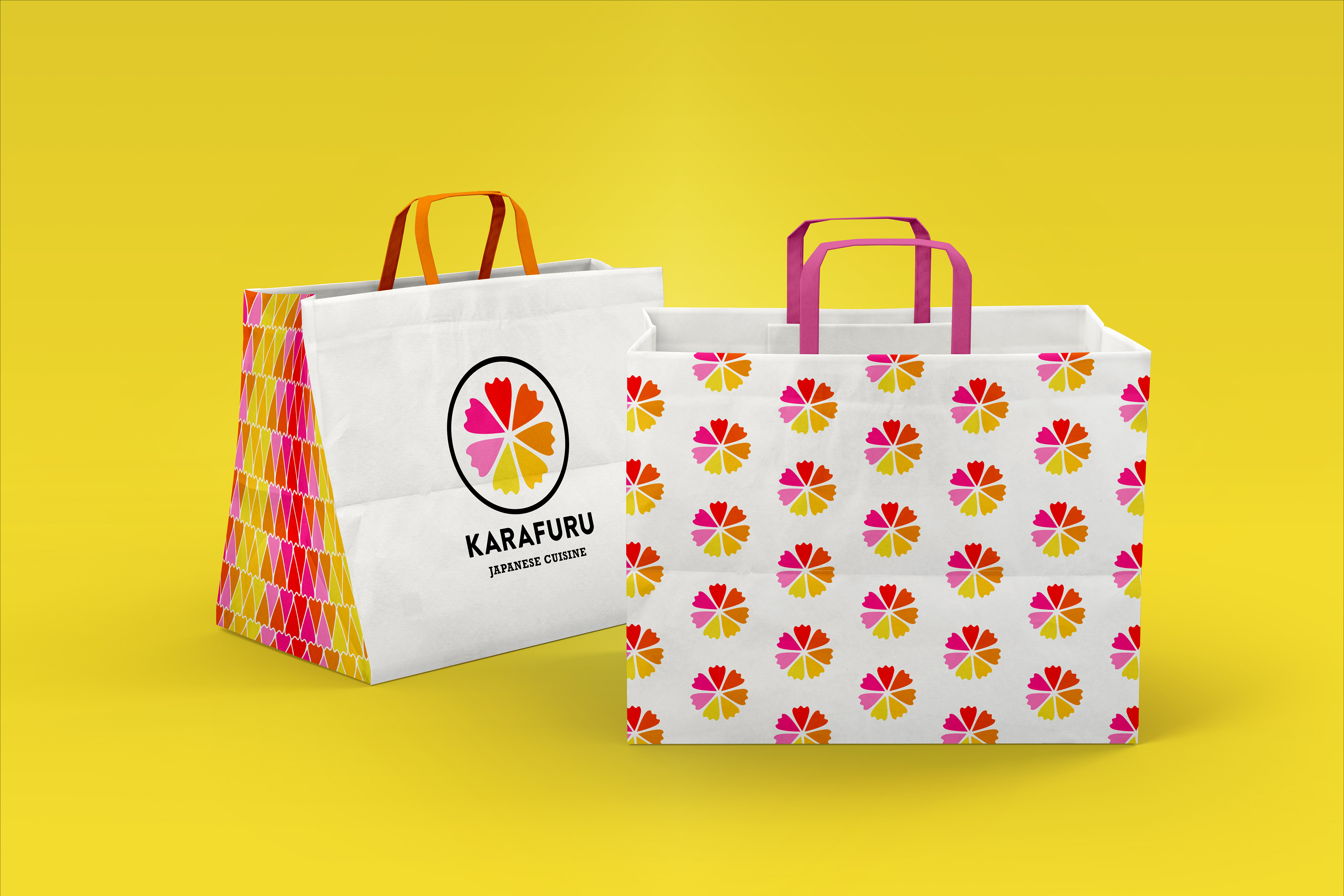 Taking part in this project has truly enlightened me to the intricate world of branding. The whole process of creating each and every aspect of Karafuru has sparked a new interest in me that I wasn't aware of. What really set this particular branding project apart from my previous work is the immense personal satisfaction that I derive from it. I feel an immense sense of pride in this project and see myself evolving as a designer with each step of the process. As a whole, this project feels far more unified and cohesive than my previous branding project. Going forward, I am eager to expand on this project further by delving into the realms of advertising and potentially even creating a website or app to tie everything together seamlessly. As always, I welcome any and all feedback, suggestions, and constructive criticism that could aid me in enhancing this project even further.
Institution: Tyler School of Art and Architecture
Course: Advanced Graphic Design 
Instructor: Katey Stafford